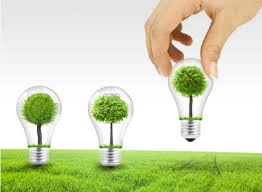 Posted by AEL OK
On December 17, 2014
0 Comments
Pay more now, save later…that's usually the motto with anything green. That fact is especially true for disposable light bulbs.
We get a lot of light bulb waste at the landfill and we don't want to see anything wasted. Remember, if your object is to save money and energy in the long run, the best way to do that is pick a light bulb that lasts the longest. Yes, that means coughing up funds up front, but I think you'll be glad you did.
CFL's are great if they have to be on for long periods of time. You may want to go with a high efficiency halogen lamp if your fixture is infrequently used or in enclosed areas. If you need dimmable light bulbs, be aware that most green lightbulbs, except halogen lamps, can't be dimmed. Be sure to check the label and see if it's marked. You'll also want to make sure the bulb is compatible with your dimmer or you could run into problems.
Spiral CFL's are the cheapest type of eco-lighting these days, so buy them in bulk and use them in non-enclosed and commonly used areas. Beware though, they often give off a harsh light and can be annoying if looked at often.
Remember, buying greener lighting is a good thing to do…for both your family's budget and mother nature. Make the investment up front and enjoy the savings later.