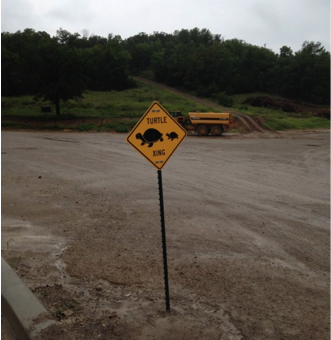 Posted by AEL OK
On October 9, 2014
0 Comments
wildlife
Out here at AEL, we have plenty of wildlife to keep us entertained. Several ponds near our scale house attract a lot of diverse animals, and we often become mesmerized just looking at them and enjoying their distinctive behavior.
We're right next door to American Therapeutic Riding Center and love looking at the beautiful horses in their pasture. We also have longhorns on our property that roam free. It's quite a chore, however, if they roam past the fence and we have to play a little cowboy and round them up.
Birds are also in abundance here. We especially like watching the scissortail. Another animal we've seen a lot this year are the turtles. They like to travel between the pond in the cow pasture and a pond over by ATRC's horse pens. We often see them cross by our scale house where it can get a tad congested. But, we make sure they stay safe.
We have told many of the drivers "you better not hit our turtles." We eventually decided to buy turtle crossing signs, which added to the fun. Everybody loves the signs, even the turtles. Every once in a while you can see a grin on their faces when their heads pop out of their shells. LOL