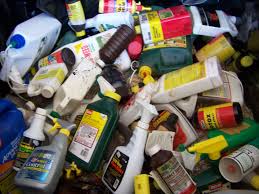 Posted by AEL OK
On May 26, 2015
0 Comments
Ever think about that Hazardous waste you're tossing in the trash? Probably time you did. The dangers from chemicals in waste can be enormous and very risky not only to ourselves but others as well.
Here's a good way to identify them:
From your house:
• Oven cleaners, electronic equipment, dyes, pesticides, acids, bleach and auto batteries.
• Floor care products, light bulbs, furniture polish, medicine, scouring powders, syringes.
• Smoke and Carbon Monoxide Detectors, toilet cleaners.
• Chlorine, and other pool chemicals.
• Paint thinners, spot and stain removers, aerosols, motor oil, ammunition, bug sprays and antifreeze.
From your garage:
• Alcohols, creosote, glues, mineral spirits, Naptha, Polyurethane coatings, rust remover, turpentine, wood stain and preservatives, oil, primer and latex paint.
From your garden:
• Algaecides, Fertilizer, Fungicides, Garden Dusts and Spays, Herbicides, Insecticides and pesticides, weed killer.
• Rat and rodent poison, fly strips, ant and roach spray, bug sprays, sticks and creams.
We suggest keeping these items out of the trash by taking them somewhere to be recycled or safely disposed of.
Remember, the key is doing what's right for the planet and for one another. Hazardous waste is never friendly to a community and the better informed we are about it, the better off we will all be.